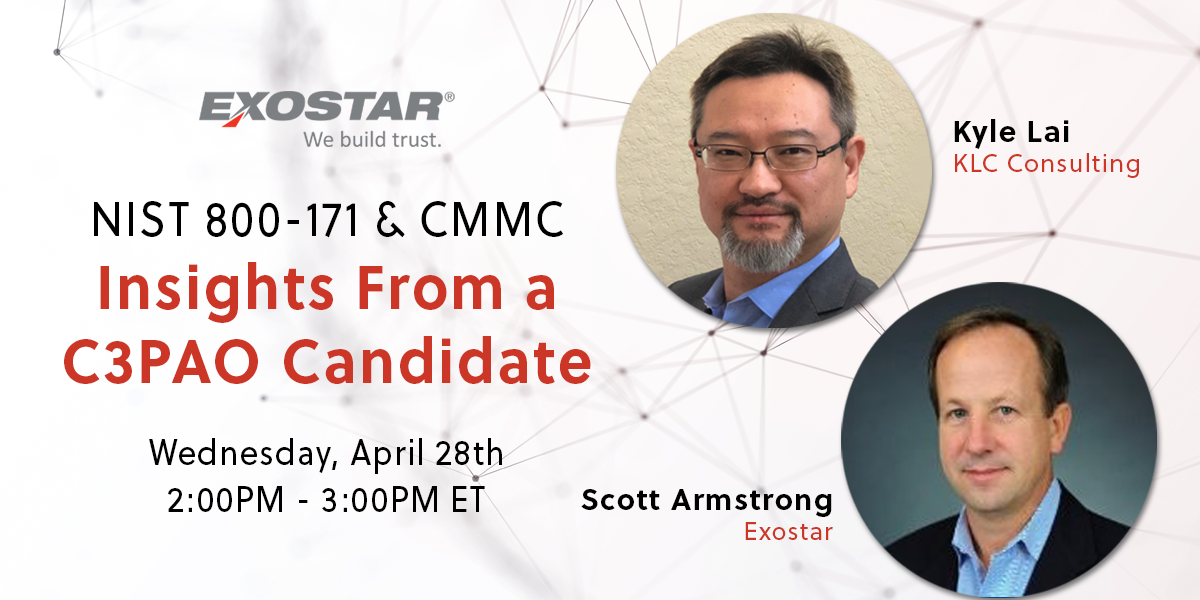 NIST 800-171 & CMMC: Insights from a C3PAO Candidate
Where do I start?
The journey to NIST 800-171 and CMMC requirements can seem daunting to organizations who don't have in-house expertise to guide them through this nuanced process. In this webinar, we'll hear directly from a C3PAO (Certified Third Party Assessor Organization) Candidate on:
Preparation for DFARS 7012, 19, 20 & NIST 800-171
Working toward 110 controls & incident response
Beyond to the additional 20 controls and CMMC
Evaluating– How do I know I'm truly prepared?
Duration of a C3PAO assessment & variables considered
There will be a 15 minute moderated Q&A portion following the presentations, so make sure to get your questions in when you register!



Kyle Lai

Kyle is President and CISO of KLC Consulting. KLC architects NIST 800-171 and CMMC compliance solutions for DoD Defense Industrial Base (DIB) companies. Kyle has over 20 years cybersecurity experience serving as a security advisor to Fortune 500 companies and the U.S. Department of Defense. Before founding KLC Consulting in 2002, Kyle was CISO at Pactera (Blackstone Portfolio Co.) and Brandeis University - Heller School, and was an operations manager for DISA Cybersecurity Portal (predecessor of public.cyber.mil). He has also consulted for ExxonMobil, Zoom, DoD, Boeing, HP, Fidelity Investments, Microsoft, Akamai, and PwC. His cybersecurity experience spans security strategy, policies, program management, vulnerability management, penetration testing, incident response, business continuity, regulatory compliance, application security and third-party risk management. Kyle is the creator of SMAC MAC Address Changer software which has been downloaded by over 3 million users globally to test and address security and privacy issues. Kyle holds the top security and privacy certifications including: CISSP, CSSLP, CISA, CDPSE, CIPP/US, CIPP/E, ISO 27001 Lead Auditor, DISA System Administrator II.

Scott Armstrong

Scott Armstrong is a executive focused on delivering enterprise software, cyber-security, and SaaS products to market. At Exostar, he is responsible for solutions spanning risk management, CMMC, as well as supply chain illumination. Scott has deep experience developing solutions for vertical markets such as Public Sector and Federal, Healthcare, Aerospace and Defense, and the Critical Infrastructure Industries, with a unique expertise in executing on Government-Industry partnerships and initiatives for market advantages.