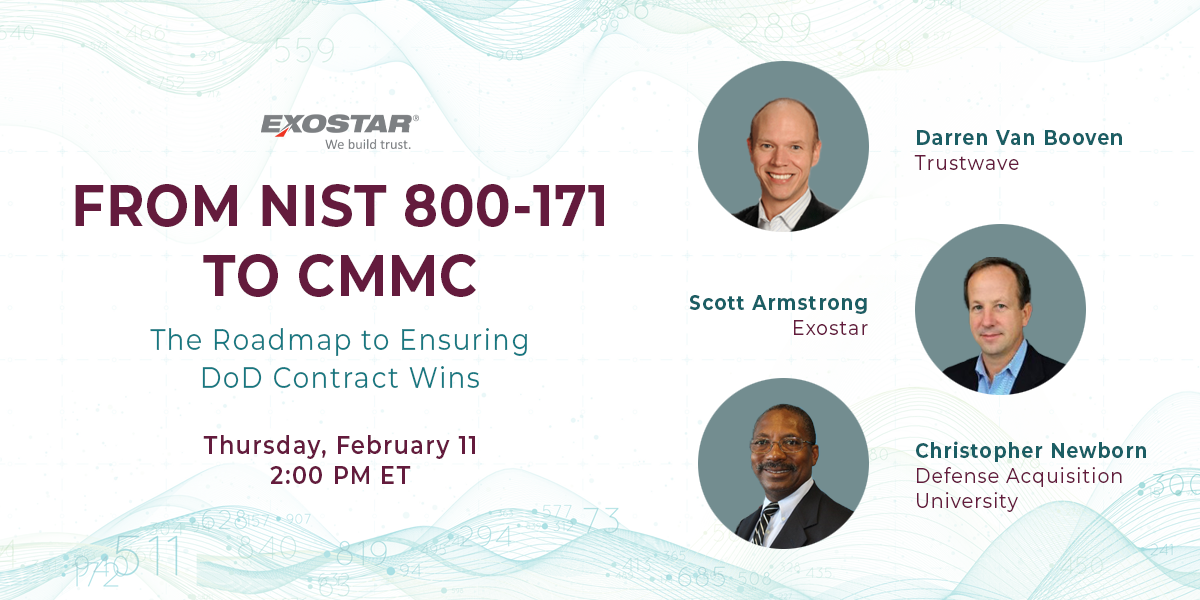 ---
From NIST 800-171 to CMMC: The Roadmap to Ensuring DoD Contract Wins
---
As of November 30th, all members of the DIB subject to implementation of the NIST SP 800-171 standard must have a current (completed within the past 3 years) DoD Assessment on record in the DoD's Supplier Performance Risk System (SPRS) to be eligible for an award, subcontract, or contract extension or modification.
What does that mean for your business?
How do you get started?
Our NIST 800-171 and CMMC experts will be on hand to walk you through all the details of this regulation and provide actionable insight, including:
What the Interim Rule says and how it relates to the existing DFARS clause
DoD Assessment Methodology from the government and industry perspective
CMMC Compliance roles and responsibilities
Next steps for the DIB: Assessing, Evaluating, and Planning
There will be a 15 min moderated Q&A portion following the presentations, so make sure to get your questions in when you register!
Darren Van Booven

Darren Van Booven is the Lead Principal Consultant for Trustwave's Consulting and Professional Services practice in the Americas region. He serves as a trusted cybersecurity advisor to boards of directors and executive leadership with customers in all major industries. Darren is an industry thought leader in security risk management with over 20 years of experience leveraging his technical and business expertise to build world-class and award-winning cybersecurity programs. He has been a Platinum ISACA member for over 15 years.

Darren has had a broad range of roles in his career, to include senior executive positions in both the federal government and private financial sectors. Most recently, Darren has been the Chief Information Security Officer at the Department of Energy's Idaho National Laboratory (INL), where he focused on delivering mission-enabling technologies for the nation's lead nuclear energy research facility. Before INL, Darren was Chief Information Security Officer for the U.S. House of Representatives in Washington, D.C. where he oversaw House security and served as a trusted advisor to all Members of Congress and their staff.

Darren spent seven years as an intelligence officer for the Central Intelligence Agency's (CIA) Directorate of Operations. He led the CIA's advanced cyber targeting operations for the Counterterrorism Center and served as a senior officer in the CIA's Counterintelligence Center.

Darren is a CISSP, CISM, CISA, a CMMC-Registered Practitioner (CMMC-RP), and an actively licensed CPA.

Christopher Newborn

Christopher Newborn, a member of Department of Defense (DoD) Acquisition and Cybersecurity Workforce, was appointed as a Professor of Information Technology (Cybersecurity Emphasis) at the Defense Acquisition University (DAU) in August 2015. Mr. Newborn duties include developing curriculum, teaching, and consulting members of the Acquisition and Cybersecurity Workforce who are responsible for acquiring, deploying, and maintaining cybersecurity capabilities and defending DoD's networks, systems, and data.

Before his appointment at DAU, Mr. Newborn served as the acting Director of Cybersecurity for Program Executive Office of Command, Control, Communications, Computers, and Intelligence (PEO C4I); the Cybersecurity Workforce Integrated Product Team (IPT) Co-Chair for the Space and Naval Warfare (SPAWAR) Command; the Cybersecurity Working Group Lead for PEO C4I; and the Acquisition Manager for Information Assurance (IA) & Cybersecurity Program Office.

Mr. Newborn has over 22 years of IA/Cybersecurity experience regarding Access Control, Telecommunications and Network Security, Information Security Governance and Risk Management, Cryptography, Security Architecture and Design, Operations Security, Business Continuity and Disaster Recovery Planning. Mr. Newborn also has over 33 years of Program, Project, and Portfolio Management experience concerning cost, schedule, performance, risk, and managed projects requiring the execution of $80M annually. In addition to his Cybersecurity and Program Management experience, Mr. Newborn has over 33 years of Contracts experience concerning cost estimation, Scope of Work/Statement of Objectives development and evaluation, Contracting Office Representative monitoring and execution, and Technical Evaluation Board responsibility.

Mr. Newborn is a graduate of Morehouse College where he earned a Bachelor of Science degree in Physics and a graduate of the Naval Postgraduate School where he earned a Master of Science degree in Management. He has also obtained the Global Information Assurance Security Leadership Certificate (GSLC), the Global Information Assurance Information Security Professional (GISP), the Global Strategic Planning, Policy, and Leadership (GSTRT), and the International Information Systems Security Certification Consortium Certified Information Systems Security Professional (CISSP) certifications.

Scott Armstrong

Successful executive focused on delivering enterprise software, cyber-security, and SaaS products to market. At Exostar, Scott , is responsible for solutions spanning risk management, CMMC, as well as supply chain illumination. Scott has deep experience developing solutions for vertical markets such as Public Sector and Federal, Healthcare, Aerospace and Defense, and the Critical Infrastructure Industries, with a unique expertise in executing on Government-Industry partnerships and initiatives for market advantages.