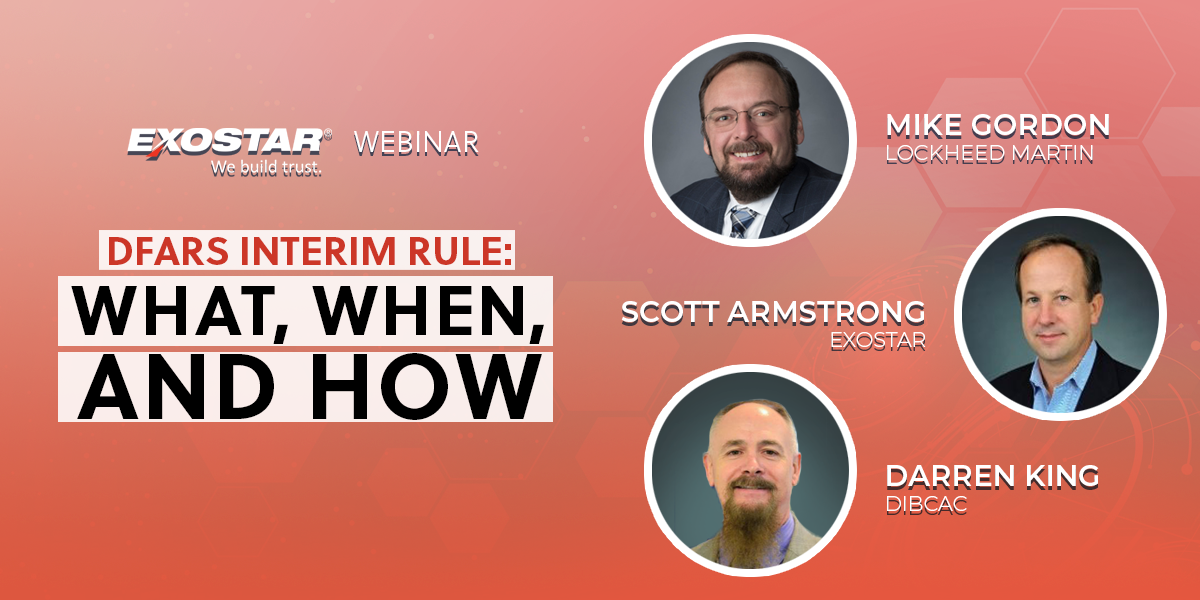 [Webinar] DFARS Interim Rule: What, When, and How
When: Tuesday, Nov 3rd, 2020
Time: 2:00 PM ET

According to the recently released DFARS Interim Rule, as of November 30th, all members of the DIB subject to implementation of the NIST SP 800-171 standard must have a current (completed within the past 3 years) DoD Assessment on record in the DoD's Supplier Performance Risk System (SPRS) to be eligible for an award, subcontract, or contract extension or modification.
It's a big deal, and we've got you covered.
Our industry experts will be on hand to walk you through all the details of this regulation and provide actionable insight, including:
important milestone dates,
how acquisitions will be affected (whether for primes or subcontractors/suppliers),
and what you need to do to comply in time.
We will hear both the the government and a Prime's perspective on the interim rule, followed by a moderated Q&A portion.

Join us, as we help you understand the DFARS Interim Rule and answer your most important questions.
Our Speakers
Mike Gordon

VP, CISO at Lockheed Martin

Mike Gordon is Vice President and Chief Information Security Officer (CISO) for Lockheed Martin Corporation (LMC). In this capacity Mike is the responsible for the Corporation's overall information security strategy, policy, security engineering, operations, and cyber threat detection and response.

With over 19 years of experience at Lockheed Martin, Mike overseas a globally-recognized team of cyber security professionals that manage the company's end-to-end enterprise security infrastructure, develop world-class capabilities to defend against advanced persistent threats (APT), and enable open collaboration and information sharing with LMC's government and industry partners.

Mike is a founder and is serving his tenth year on Board of Directors for the Defense Information Security Exchange (DSIE) and the National Defense Information Sharing and Analysis Center (ND ISAC). Mike also serves as the Chairman of the Defense Industrial Base Sector Coordinating Council (DIB SCC) for the protection of critical national infrastructures. Outside of work Mike can be found leading volunteer organizations in support of Shriners' Hospitals for Children.

Darren King

Director, Defense Industrial Base Cybersecurity Assessment Center (DIBCAC) at Defense Contract Management Agency (DCMA)

Darren J. King is the Director of the Defense Contract Management Agency's (DCMA) Defense Industrial Base Cybersecurity Assessment Center (DIBCAC). As the Director, he is responsible for leading civilian personnel conducting cybersecurity assessments of the Defense Industrial Base.

For 6 years, Mr. King led several organizations supporting the Army Computer Emergency Response Team (ACERT) and in this time, he was the de facto expert in the Army for Malware Analysis, Cyber Forensics, and Incident Response that investigated, analyzed, and recommended mitigations for every major cyber incident in the Army. While at the 1st Information Operations Command, was the one of the founders that spearheaded and deployed with the first operational mission support teams as the precursor to the Army CPT and MST missions today. During this timeframe, he created the concept, training, and oversaw for the Army Strong team that participated in hacking competitions worldwide.

His awards and recognition include the DCMA Supervisor of the Year, DCMA Award for Excellence, DCMA Special Act and finalist for National Security Agency Frank B. Rowlett Trophy for Individual Achievement in 2017.