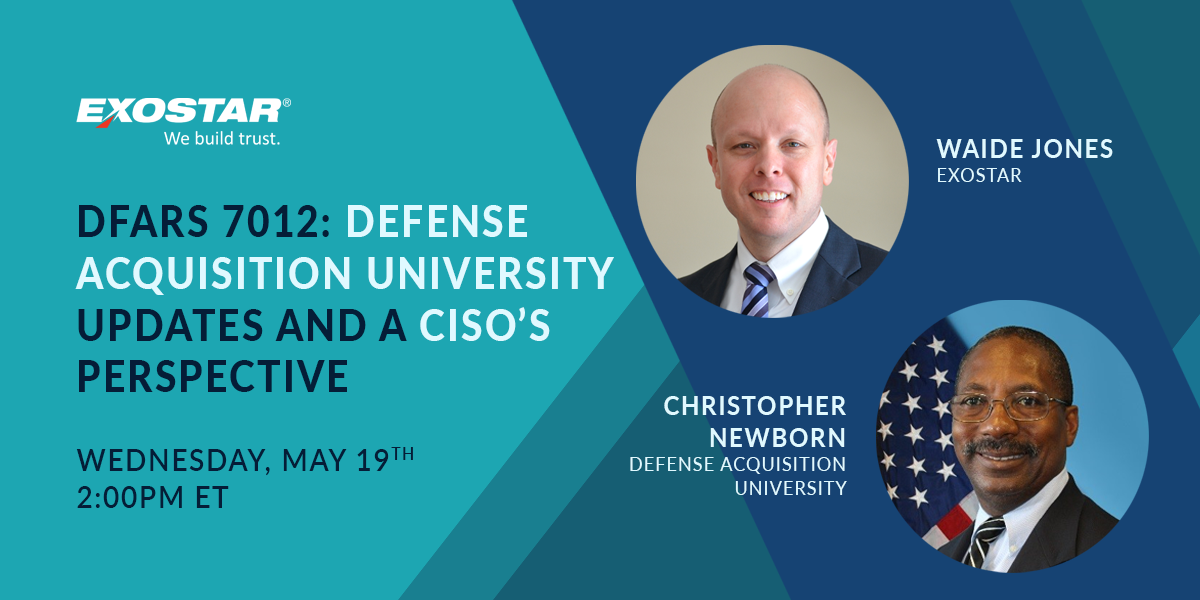 DFARS 7012: Defense Acquisition University (DAU) Updates and a CISO's Perspective
We hope you'll join us on Wednesday, May 19th as we get you the most current information on DFARS 7012 & NIST 800-171 requirements directly from Chris Newborn of the Defense Acquisition University (DAU). And Exostar's CISO, Waide Jones, will speak from the perspective of a CISO who handles and manages CUI every day.
Meeting DFARS 7012 & NIST 800-171 Requirements: Today and Beyond
In this webinar, we'll discuss:
DAU's role in DFARS 7012/NIST 800-171/CMMC and procurements

DoD Assessment Methodology &

DoD's use of the SPRS system

DAU perspective on

what's to come in 2021/2022

How to prioritize achieving full 800-171 compliance
There will be a 30 minute moderated Q&A portion following the presentations, so make sure to get your questions in when you register!
Waide Jones
Vice President and Chief Information Security Officer

Waide joined the management team of Exostar in mid-2015 as the Director of Information Security. He became the Chief Information Security Officer in August of 2016. In this capacity Waide directs the Exostar information security program to protect its information, assets, and customers.

Prior to joining Exostar, Waide spent 17 years of his career with Lockheed Martin where he held various technical and leadership roles. He is an accomplished leader and IT security architect. He has a proven ability to develop and execute cyber security initiatives that include people, process, and technology. Waide is experienced in working with industry peers to influence change and create opportunities to better protect critical information from cyber threats wherever it resides. His experiences range from program/team leadership, strategy development, cyber security risk management, supply chain cyber security, budget & financial planning, risk and vulnerability assessments, audit, IT architecture, secure system design, CIRT, forensics, and policy/standard development.

Waide holds a Master Degree in Telecommunications and a Bachelor Degree in Management Information Systems from George Mason University. Waide has several certifications to include the Certified Information Systems Security Professional (CISSP).


Christopher Newborn

Christopher Newborn, a member of Department of Defense (DoD) Acquisition and Cybersecurity Workforce, was appointed as a Professor of Information Technology (Cybersecurity Emphasis) at the Defense Acquisition University (DAU) in August 2015. Mr. Newborn duties include developing curriculum, teaching, and consulting members of the Acquisition and Cybersecurity Workforce who are responsible for acquiring, deploying, and maintaining cybersecurity capabilities and defending DoD's networks, systems, and data.

Before his appointment at DAU, Mr. Newborn served as the acting Director of Cybersecurity for Program Executive Office of Command, Control, Communications, Computers, and Intelligence (PEO C4I); the Cybersecurity Workforce Integrated Product Team (IPT) Co-Chair for the Space and Naval Warfare (SPAWAR) Command; the Cybersecurity Working Group Lead for PEO C4I; and the Acquisition Manager for Information Assurance (IA) & Cybersecurity Program Office.

Mr. Newborn has over 22 years of IA/Cybersecurity experience regarding Access Control, Telecommunications and Network Security, Information Security Governance and Risk Management, Cryptography, Security Architecture and Design, Operations Security, Business Continuity and Disaster Recovery Planning. Mr. Newborn also has over 33 years of Program, Project, and Portfolio Management experience concerning cost, schedule, performance, risk, and managed projects requiring the execution of $80M annually. In addition to his Cybersecurity and Program Management experience, Mr. Newborn has over 33 years of Contracts experience concerning cost estimation, Scope of Work/Statement of Objectives development and evaluation, Contracting Office Representative monitoring and execution, and Technical Evaluation Board responsibility.

Mr. Newborn is a graduate of Morehouse College where he earned a Bachelor of Science degree in Physics and a graduate of the Naval Postgraduate School where he earned a Master of Science degree in Management. He has also obtained the Global Information Assurance Security Leadership Certificate (GSLC), the Global Information Assurance Information Security Professional (GISP), the Global Strategic Planning, Policy, and Leadership (GSTRT), and the International Information Systems Security Certification Consortium Certified Information Systems Security Professional (CISSP) certifications.

Scott Armstrong

Scott Armstrong is a executive focused on delivering enterprise software, cyber-security, and SaaS products to market. At Exostar, he is responsible for solutions spanning risk management, CMMC, as well as supply chain illumination. Scott has deep experience developing solutions for vertical markets such as Public Sector and Federal, Healthcare, Aerospace and Defense, and the Critical Infrastructure Industries, with a unique expertise in executing on Government-Industry partnerships and initiatives for market advantages.