Wednesday, December 6th | 2PM - 3PM ET
CMMC Journey: Scoping and Building an Enclave
Are you ready to take charge of your CMMC compliance journey by establishing a strong foundation for success in the evolving landscape of defense contracting?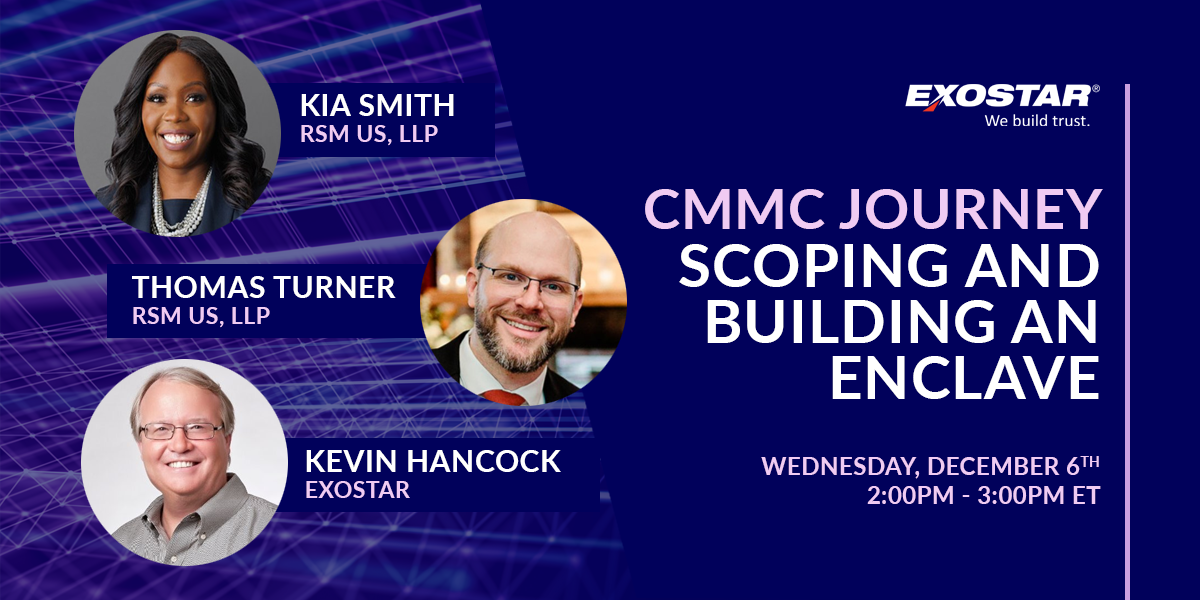 As you navigate the path to CMMC compliance, one of the crucial initial steps is determining the scope of the system responsible for handling Controlled Unclassified Information (CUI). This process often leaves organizations searching for clarity to define what's within the system's boundaries and what falls outside.
Join Exostar alongside our trusted partner, RSM US, LLP, and embark on a tailored webinar journey crafted with your needs in mind. Our primary objective is to empower you with the essential skills required to scope and build your CUI enclave confidently. Throughout this webinar, we focus on your success, providing valuable insights and practical strategies to boost your compliance efforts. Here's what you can anticipate gaining:
Identifying your Boundary: Understand compliance scope, manage data flow efficiently, and gain practical techniques for compliance
Building Your Enclave: Strengthen security with architectural principles, technical controls, and alignment with CMMC/NIST 800-171
Enclave Design Costs and Considerations: Make informed design choices, optimize compliance, and streamline the process with expert insights on security and cost drivers and solutions.
Our webinar becomes your invaluable companion as you strive to elevate your organization's cybersecurity posture and tackle NIST 800-171/CMMC compliance challenges. With 2024 on the horizon and CMMC's imminent arrival, be prepared to meet compliance standards and thrive in the ever-evolving cybersecurity and compliance landscape. The consequences of non-compliance can be detrimental, causing financial strain, operational complexities, and increased security vulnerabilities.
Join us in this transformative journey towards compliance; your success is our priority, and together, we'll navigate the complexities and empower you to excel in today's cybersecurity arena.