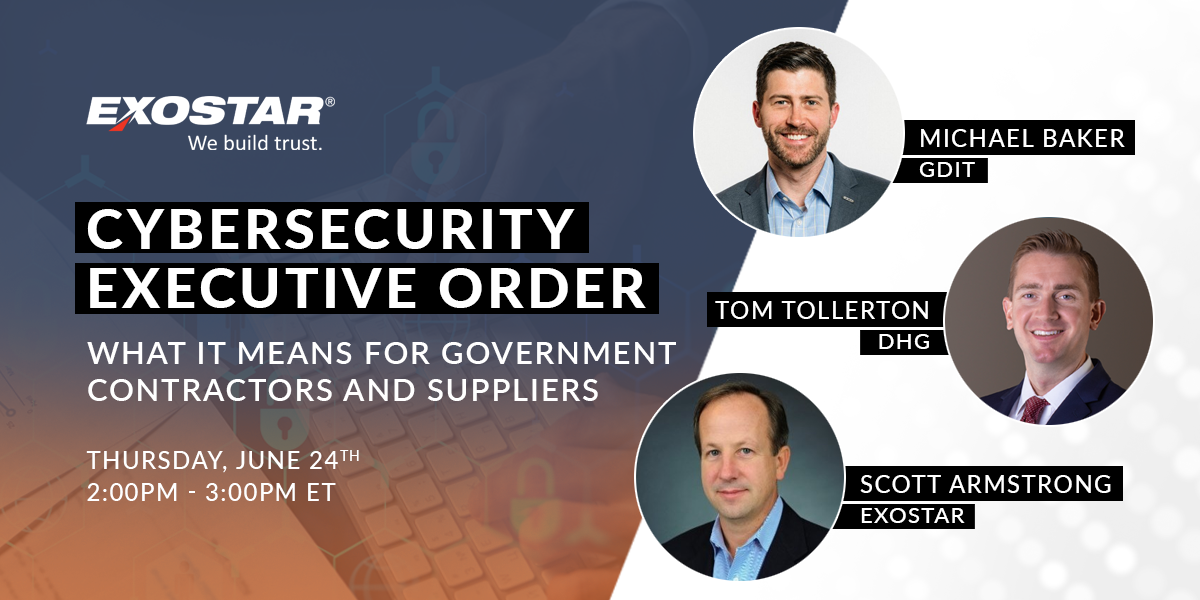 Cybersecurity Executive Order: What It Means for Government Contractors and Suppliers
Thursday , June 24th
2:00PM - 3:00PM ET
We hope you'll join us on Thursday, June 24th as we help you understand President Biden's recent Cybersecurity Executive Order and what it means for government contractors and suppliers. Hear directly from industry professionals:
Michael Baker, CISO, General Dynamics IT
Tom Tollerton, Managing Director, Dixon Hughes Goodman LLP
We'll cover:
What the Executive Order means
Preparing while the goalposts keep moving
What your Primes expect NOW
And most importantly, we'll answer your most burning questions, so make sure to submit them when you register!
Michael Baker

Michael Baker is an accomplished cyber security executive passionate about building high performing teams and transforming the way cyber risk is managed within the business. Michael brings nearly 20 years of experience in the field across cyber leadership, talent development, risk management, audit, and compliance serving the aerospace and defense industry as CISO along with a variety of clients across industries as a seasoned consultant.

Michael Baker currently serves as Vice President & Chief Information Security Officer (CISO) for GDIT serving within the Office of the CIO. As CISO, he manages a team of professionals across all aspects of internal cyber operations, computer network defense, policy, awareness, incident response, threat intelligence, and secure architecture. In addition, Michael leads the team to identify, assess, and mitigate cyber, IT, and compliance risks for the business. Prior to this role, Mr. Baker worked at EY consulting for a wide variety of clients across the defense, retail, banking, and technology sectors including 11 years for General Dynamics providing cyber and IT services across all GD business units.

Over the past 2 years, Michael has acted as the primary leader of a collaborative CMMC working group with the aim to lean in and meet CMMC requirements across GD businesses and our supplier and subcontractor ecosystem. In these efforts, Michael has led the business on the identification of Controlled Unclassified Information (CUI), evaluation of cyber control maturity, supplier outreach, along with internal and external education. Michael is a member of the CMMC-AB Industry Advisory Council (IAC) and is a frequent speaker on a variety of panels and is regularly sought out for advice amongst the defense industrial base supplier ecosystem.





Tom Tollerton

Tom has more than 15 years of experience in the cybersecurity industry and manages the firm's cybersecurity and data privacy compliance services. Tom focuses in cyber risk management, data privacy compliance, SOC reporting and PCI compliance assessments. His experience includes performance of cybersecurity risk assessments and data privacy assessment and consulting projects, and various compliance audits. His clients include organizations of all sizes in the fintech, dealership, communications, insurance and software industries, including Fortune 500 corporations.

Tom has been published in national publications and is a regular speaker on cybersecurity and privacy topics at various industry events.


Scott Armstrong

Scott Armstrong is a executive focused on delivering enterprise software, cyber-security, and SaaS products to market. At Exostar, he is responsible for solutions spanning risk management, CMMC, as well as supply chain illumination. Scott has deep experience developing solutions for vertical markets such as Public Sector and Federal, Healthcare, Aerospace and Defense, and the Critical Infrastructure Industries, with a unique expertise in executing on Government-Industry partnerships and initiatives for market advantages.