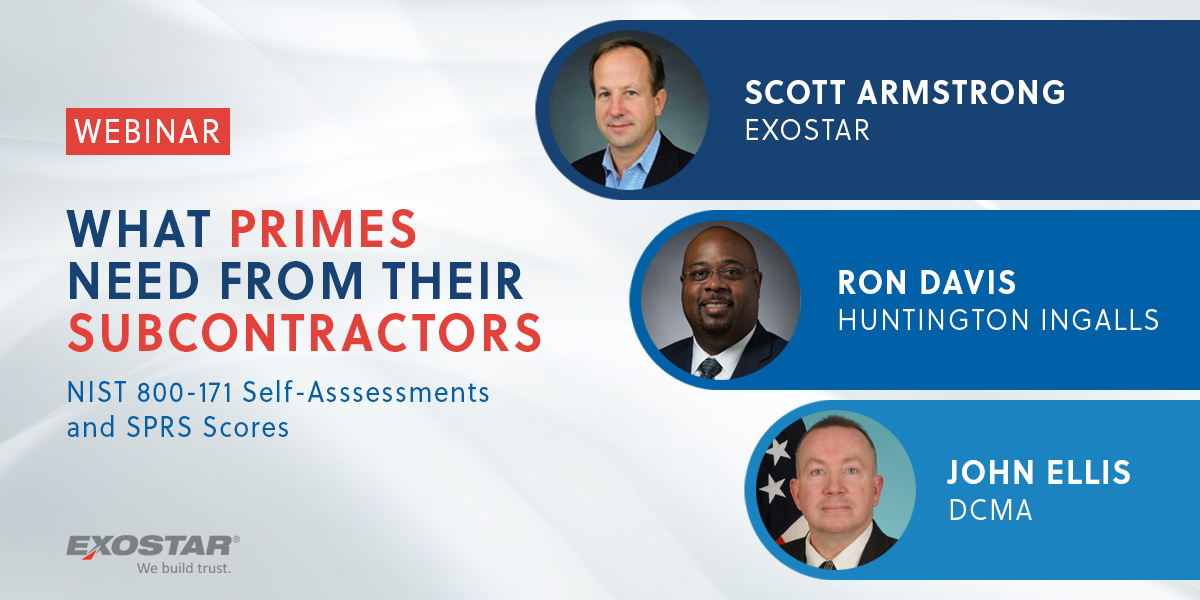 CMMC: What Primes Need From Their Subcontractors
The DFARS Interim Rule is in full effect, and CMMC requirements have already started to appear in RFPs. If you are a member of the Defense Industrial Base (DIB), you are subject to implementation of the NIST SP 800-171 standard must have a current DoD Assessment on record in the DoD's Supplier Performance Risk System (SPRS) to be eligible for an award, subcontract, or contract extension or modification. The results of that assessment results in what is known as an SPRS score.

What does that SPRS score mean?
What does your Prime need to see from you?
Our government and industry experts will be on hand to walk you through all the details of SPRS reporting, DCMA audit processes, and actionable insight, including:
How SPRS relates to DoD Assessment Methodology
Why NIST 800-171 sets you up for CMMC success
What CMMC Levels mean to Primes

How to ensure security, protect IP, and gain competitive advantage
There will be a 15 minute moderated Q&A portion following the presentations, so make sure to get your questions in when you register!
John Ellis

John A. Ellis is currently the Director for DCMA's Software Division, responsible for the Policy, Training, and Tools used by the Agency's software professionals in the conduct of their software surveillance activities, including the application of cyber security contract requirements and policies.

Mr. Ellis, a retired Army Colonel, served on active duty for more than 30 years. Commissioned a second lieutenant in the Field Artillery in May 1985 and becoming a member of the Army Acquisition Corps in 1995, he served in a variety of assignments until his retirement 1 June 2015.

John held assignments both stateside and abroad. Mr. Ellis' DCMA experience began as the Commander of the Future Combat Systems (FCS)/Army Modernization Programs (AMP) contract management office in St. Louis, MO and he culminated his active duty career as DCMA's Central Region Commander.

John is a graduate of Marshall University with a Bachelor of Business Administration (BBA) in Management and earned a Master of Science (MS) in Information Systems Management from AFIT and a MS in Strategic Studies from the Air War College. He is a graduate of the Advanced Program Management Course (APMC). Mr. Ellis is a Member of the Defense Acquisition Corps and is Level III certified in 3 disciplines: Information Technology; Program Management; and Engineering. John is also a Certified Information Systems Security Professional (CISSP).

His significant military awards include the Defense Superior Service Medal, the Legion of Merit, the Bronze Star Medal, the Meritorious Service Medal (with 3 oak leaf clusters), the Army Commendation Medal (with 3 oak leaf clusters), and the Army Achievement Medal (with silver oak leaf cluster).

John and his wife Gena have one child, Ursula.

Ron Davis

Ron Davis is the Chief Information Security Officer (CISO) at Huntington Ingalls Industries (HII) and has over 20 years of experience in Information Security and Information Technology. In his current role at HII Mr. Davis oversees the Company's information security program in areas such as cybersecurity policy, risk management, governance and, cybersecurity incident response and remediation. Prior to HII Mr. Davis held a similar role as CISO at Vencore Inc. where he performed similar functions as those in his current role at HII.

Mr. Davis has served in various roles as an information security leader both in the Defense Industry and Homeland Security. Previously, Mr. Davis held the position of Director of BAE Systems Inc. Global IT Security Integration and Strategic Collaboration. In this role, Davis was responsible for global strategic collaboration for cybersecurity services across an enterprise which spanned 5 Home Markets and 25 countries. Mr. Davis was also the BAE Systems Inc. IT Security Policy and Operations liaison to a number of the Defense Industrial Base (DIB) Cybersecurity and Information Assurance working groups, where he provided insight and expertise on cybersecurity issues encountered by the Base.

Prior to his role as BAE Systems Director of IT Security Integration and Strategic Collaboration, Mr. Davis was the Director of BAE Systems Global IT Security Operations. Serving in this capacity, Davis was responsible for supporting the BAE Systems global security operations theater and directed a team of cyber analysts and information security engineers in combating cyber threats against the BAE Systems global network.

As a BAE Systems employee under contract to the federal government he served as director of IT security at the Department of Treasury and; IT security manager at the Department of Commerce. Also in a contracting capacity, Davis served as a senior lead information systems security engineer at the Department of Defense and the Department of Homeland Security. He has an extensive background in cybersecurity policy and procedure development, cybersecurity architecture, security risk management, and cyber threat management and incident response.

Mr. Davis has a Bachelor of Science in Information Systems Management with a minor in Homeland Security; he also holds several industry certifications including the Certified Information Systems Security Professional certification.

Scott Armstrong

Scott Armstrong is a executive focused on delivering enterprise software, cyber-security, and SaaS products to market. At Exostar, he is responsible for solutions spanning risk management, CMMC, as well as supply chain illumination. Scott has deep experience developing solutions for vertical markets such as Public Sector and Federal, Healthcare, Aerospace and Defense, and the Critical Infrastructure Industries, with a unique expertise in executing on Government-Industry partnerships and initiatives for market advantages.