---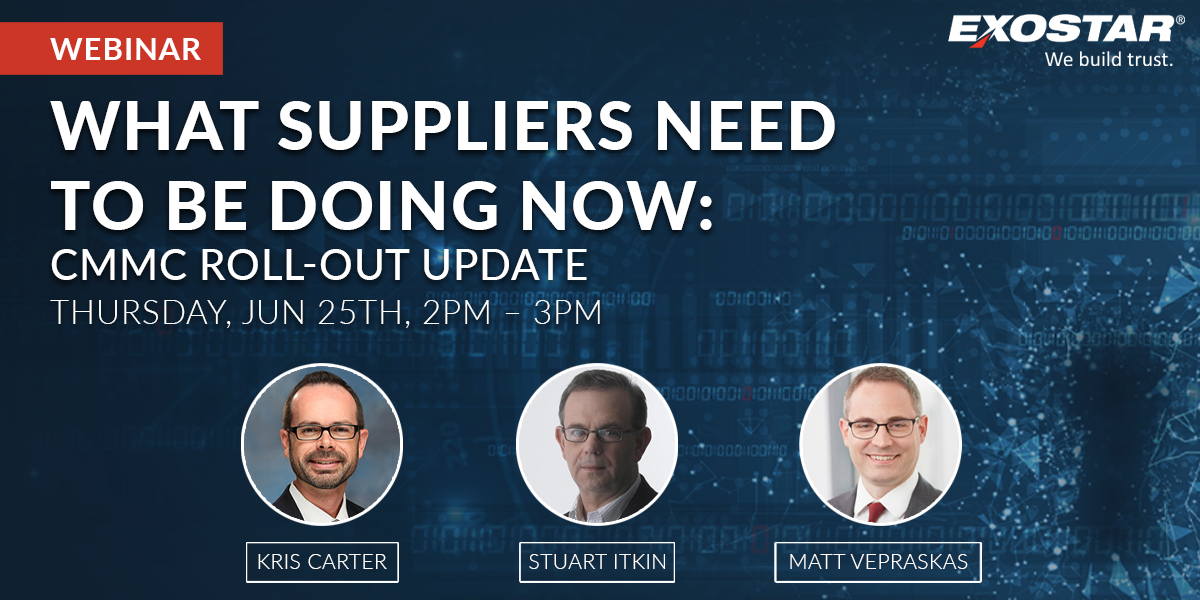 What Suppliers Need to be Doing Now:


CMMC Roll-out Update
When: This event has already occurred. Please use the link below to watch the on-demand version.
Nearly half way through 2020, the roll-out of Cybersecurity Maturity Model Certification (CMMC) is progressing toward DoD's objective of including CMMC requirements in some RFPs before the end of the year. The CMMC Accreditation Body is launching a Provisional Program that, for an initial set of contracts, will require Primes and their suppliers to complete the CMMC certification process.
CMMC Certification will be a requirement for the over 350,000 vendors in the supply chain to the DOD. If you're one of them, it's time to understand what you need to do and to start preparing now.
Join us on for an update on the CMMC roll-out and to learn what you should be doing now.
Our industry experts will discuss:
Key milestone for CMMC's roll-out
How the timeline has been affected by COVID-19
What Primes are expecting from suppliers and how they're preparing to help
Where you can find help

Steps you should be taking now
Our Speakers
Kris Carter, Verify, Inc.
As Vice President of Technology and Compliance, Kris oversees Verify's internal business technology and compliance groups while engaging with key customers. His previous roles have included providing technology consulting and management services to a number of small and mid-market companies. Kris earned his Masters of Business Administration from Pepperdine University. He is an active with several industry cyber security committees, government/industry working groups, and law enforcement/industry cooperative efforts. More locally, Kris volunteers with emergency response and father-daughter community programs.

Stuart Itkin, Exostar
As Vice President of Marketing and Product Management, Stuart Itkin oversees all of Exostar's strategic and tactical product management and product marketing activities.

Formally, Chief Marketing Officer (CMO) at Kronos, Stuart conceived and led its transformation from a product-centric supplier of time and attendance software to a solution-centric Human Capital Management enterprise software business, driving double-digit growth in its core manufacturing, retail, government, and healthcare markets.

Stuart attended the University of Illinois at Urbana-Champaign, where he earned BA and MA degrees and is an ABD. He serves as a lead mentor at MACH37, an accelerator facilitating the next generation of cybersecurity product companies. He also serves as a Director for AIM Global and the Recognition Technology Users Association, as well as an Advisory Board member for Eloqua and Social Media Today.

Matt Vepraskas, Leidos
Matt is the Director of Supply Chain Risk & Category Management at Leidos. Matt has led large organizations covering all aspects of supply chain, including enterprise contracting, material procurement, subcontracting, Pcard, material management, logistics, and financial forecasting. Matt has also led teams focusing on technical solution development & supplier management strategies. WIth significant experience in support of enterprise IT procurements including negotiations of contracts up to $30M+ in annual value, he possesses a strong business acumen, having supported over $10B in single award contract wins across commercial, defense, classified, & international markets. He has a demonstrated track record of success in coordinating large organizations to drive change that sticks with a reputation for strong presentation skills to non-technical audiences, having restructured multiple supply chain organizations of varying sizes and disciplines while infusing technical and strategic direction to build data-driven mindsets. He is a Senior Member of the Institute for Electrical and Electronics Engineers (IEEE) and the Association for Computing Machinery (ACM). Matt is a certified PMP, Six-Sigma Green Belt, with engineering & MBA graduate degrees holding active TS/SCI & DoD Top Secret clearances.